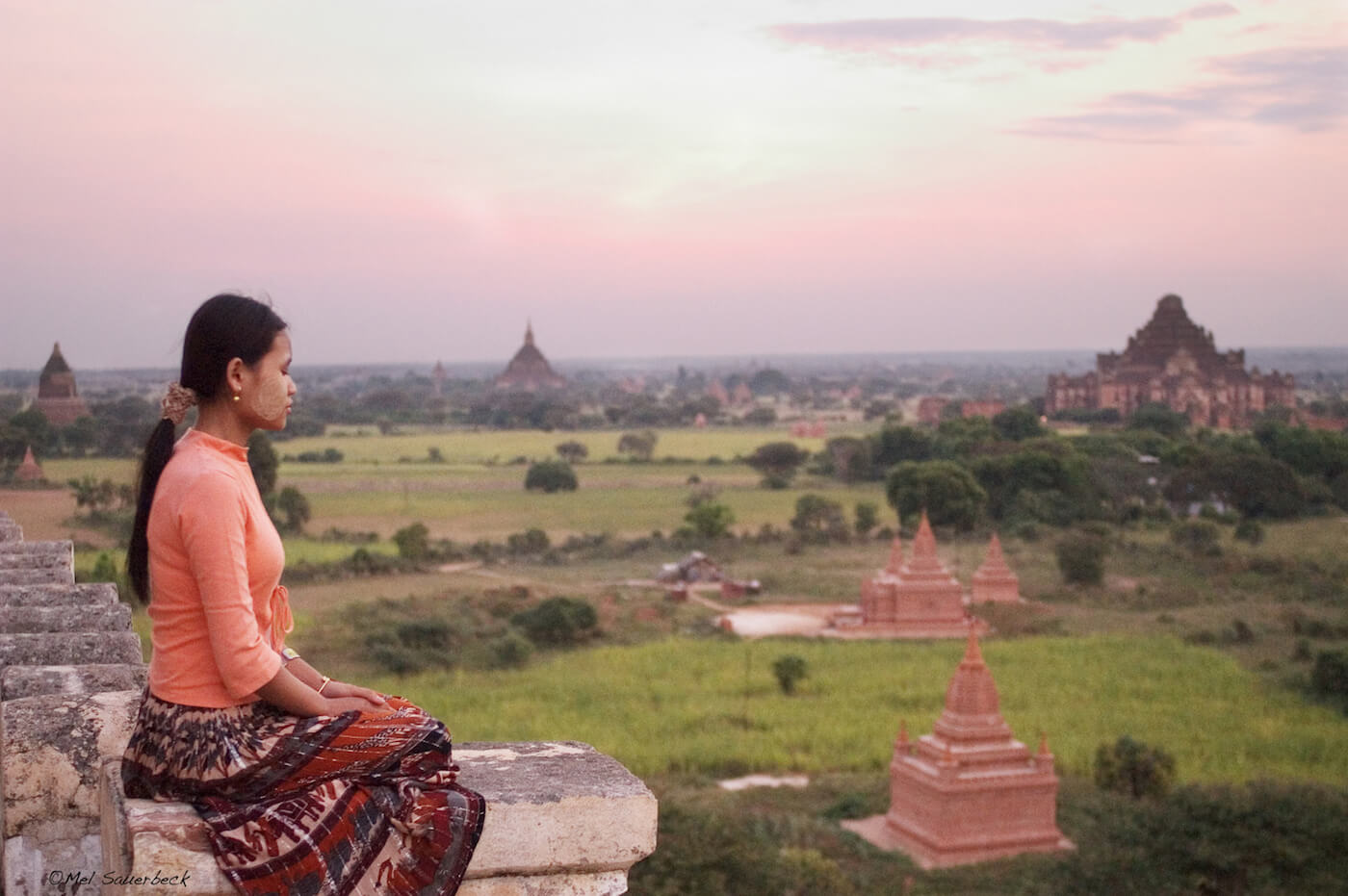 Sunrise view from the top of one of the thousands of Pagodas in Bagan, Myanmar (Burma)
This Photographer blog opens a small window into my six months travels throughout this SE Asia Journey. During this time I traveled in Thailand, Lao, Angkor Wat, Cambodia and Myanmar (Burma). As you scroll down, hopefully reading the short stories, you'll get a flavor of the amazing people and culture I encountered there.
11/08/04 Thailand, Bangkok
This morning I have been invited to attend the inauguration of a new building owned by a Thai meditator. We are told that there will be a small group of monks who have arrived to give their blessings and that the head monk is someone special.
There is a short ceremony underway when we arrive and we are invited to participate. We each take a plate of cooked rice and offer a small portion into the bowl of each of the eight monks, one by one. When this is done the monks are given a variety of other foods in their bowls. When they have all been served we also take some food.
While I'm eating I am told about the head monk. His name, Luang Pu Naen Kum, which means Enlightened Great Grandfather. He became a monk at age 7 and though he is still young, only 26, he remembers some 400 years of his former lives as a monk. They tell me that when his master passed away he was blessed with the gift of sidhis. For example, by placing his hand on a book he knows everything within the book. 
After lunch the monks chant and offer blessings on everyone, then the head monk walks around the new building blessing each room and painting sacred words on the entry way. Sitting back down, the head monk offers sacred threads of protection to a few people by tossing them in the air just above their hand (so as not to touch the individual). When he looks up and sees me in front of him he begins to laugh and asks if I'd want one? Yes, of course! He asks that I come closer and while chanting reaches out, takes my hand and slowly, purposefully, wraps the thread and ties it around my wrist. Then holding my hand, he whispers some mantras while rubbing my wrist. With a big smile he says, "Please come to my temple so we can discuss dharma".
So blessed, I continue to look forward to each new day here. The Thai people are perhaps the sweetest people one could know.
11/08/04 Thailand, Bangkok
By midday we are feeling a little drained from the heat of another Bangkok afternoon and Chris suggests that we go for a traditional Thai massage (no, not the other kind). He knows a good place just down the road and in no time we are inside having a shower and changing into oversized silk PJ's. We enter a long room partitioned off on either side by curtains and on the raised wooden floor are little mattresses and pillows. Two Thai massage girls enter, maybe early twenties, attractive and very sweet. My girl, Yen, is maybe five foot tall 100 lbs, I'm 6'2 about 195 lbs. She looks me up and down and we both start laughing.
During the next two hours Yen works me over from toes to head and back again, putting everything she had into it, literally, using all her body (hands, elbows, knees, head, fists, palms, fingers, jumping, twisting, pulling, even sitting and standing on me) and all her 100 lbs weight. She asks "is Ok, no hurt". For a little girl she's really going deep, but never too much.
At one point Yen lies down with her knees up and asks me to sit with my back against her knees. She locks her arms around my arms and counts, "1,2,3" and rocks me up onto her knees (my back pivoting on her knees). Well, this worked out OK until the whole thing seemed just to funny, we both started laughing and I came tumbling down on top of her. Yen, determined to get it right said, "this time no laugh, OK" and "1,2,3", I was up on her knees, my back stretched out.
Before leaving, Yen brings tea and asks, "You come back?" My first experience with Thai massage was quite enjoyable, I'm sure I'll return, 2 hours about $8, the laughter and sweetness, priceless!

11/13/04 Thailand, Bangkok, Fashion City
It's fashion week here in Bangkok and I was lucky enough to receive an invitation to attend the ELLE Sretsis fashion show. The weeklong event is being held in a specially erected tented pavilion, just a few minutes walk from where I'm staying. If you want to understand how serious the Thai women take their fashion one has only to look toward the thousands of well-dressed people waiting outside the big tent. Fortunately, I found the Thai friend who had arranged the invitation but, as she handed me my ticket she asked, "did you bring your camera?". Yes, I told her. Well, she says, "no pictures are allowed during the show!" Quickly her eyes brighten again and I'm following her to the press booth. In no time she had arranged a Press Pass for me and I'm being escorted inside, past the big crowd to a roped off area, just at the head of the runway.
From the look of the long white catwalk and all the lights and video cameras, it is obvious that this is a professional show. Soon after I found my place I was joined by dozens of other photographers and video crews each maneuvering for the best shooting spot. Being tall, I felt sure that almost any spot here should have a great vantage point. But these Thai photographers knew a thing of two about being on the short end of the shooting scale. They all brought little ladder-stools to stand on and two set up right in front of me, almost totally blocking my view. Undeterred, I also made use of their little ladders and borrowed a step from each of their stools to regain the height advantage.
Soon the crowd was pouring in and the hall filled to maximum. The lights went down and video presentations projected a history of fashion in Thailand. As the video faded, spotlights switched on and light colorful techno music announced the start of the runway production. This is the Faerie Collection by Sretsis (sisters spelled backwards). One after another beautiful model prance down the runway, feet strutting in time with the beat. The clothes, a woman's dream come true, bestow a sweet, almost magical innocence, like a Cinderella fairy tale come to life. Some of the models, I'm told later, were quite famous Thai models, others obviously from Europe or America. The crowd clapped and cheered for their favorite design, we photographers clicked away (and I tried not to fall off my little perch). 
Almost before you knew it, it was over (maybe 15-20 min). Everyone enjoyed the show…just another flavor of beautiful and sophisticated life in Thailand.
Suai (beautiful)…

11/15/04 Thailand, Bangkok, Wat Phra Kaew
A 15 minute ride on the modern Skytrain to the Eastern edge of Bangkok brings me to the river. This is where it's possible to catch a local boat up into the oldest part of the city. It's a slight bit cooler along the river and the almost constant sweating takes a few minutes off while I watch life float by.
As the boat edges closer and gets tied off you can feel an increase in activity nearby and just a few meters from the dock is a thriving little market where the adventurous can get a bite to eat. Anything from roasted grasshoppers and other assorted large bugs to a great variety of cooked foods and exotic fruits, all very colorful. Must be the heat because my appetite has disappeared, but I do enjoy some chilled coconut juice.
The object of today's adventure, Grand Palace at Wat Phra Kaew, also known as the home of the Emerald Buddha, is just down the road. Many tourists are here and many have not understood that how they are dressed will determine if they can enter. Before entering each person is scrutinized carefully. No shorts or three quarter pants, shoes or sandals must have a strap around the heal, shirts must have some kind of sleeve, all rules westerners must follow to enter sacred places. My attire seems to meet with the approval of the gate guards and I am allowed to pass.
A Wat is a place where Buddhist monks live or get ordained and is a gathering place for the people during the many festivals. The shear number of intricately designed buildings here makes it difficult to describe. But this is the oldest and largest Wat in Bangkok and it has a vast number of buildings, exceptionally colorful, with polished colored tiles and mosaics including mirror and gold. Murals, which surround many areas, depict the Thai version of the Ramayana. This is also the home of the Emerald Buddha, considered the talisman of the Thai kingdom. Legend says it was sculpted in India, at one point it's true nature was concealed by a covering of plaster (discovered when it was dropped). Now its kept in a glass case inside the main building (sorry, no photos are allowed inside).
The tall golden Chedi temple spire is central and all around the grounds are large ornate statues of the guardians, with wild, sometimes grotesque faces. But my favorites are the golden guardians, half animal, half man, or woman.
All in all it's too much to really describe, so check out the pictures on the portfolio section of my site…¨Jee-gan prung-nii na (see you tomorrow)…

11/18/04 Thailand, Bangkok, Wat Pho
Ranking somewhere between skydiving and wild bull wrangling is a ride in heavy traffic on the back of a small two wheel Thai motorcycle taxi (125cc). These guys weave in and out of traffic, sneaking around, across lanes and back again, even up on the sidewalk.
Always jockeying to pull in front of rushing traffic, at the fastest speed their motorcycle can manage. Truly they possess a skill that borders the impossible. A quick jerk on the handlebars by the driver and the fabric of my pants caress a large bus on one side and a Toyota on the other. I've driven my motorcycle in California traffic on many occasions and enjoyed the convenience of lane splitting (driving between two lanes of stalled traffic). But this raises the bar (and the adrenalin) to a whole new level.
A truly invigorating ride through the back streets of Chinatown brings us past every kind of item one can imagine for sale. From a hundred kinds of dried fish to entire streets of stuffed toy animals, I eventually arrive at Wat Pho, with all limbs intact. This Wat is special in that it is one of the oldest (16th century) and has the largest collection of Buddha statues in Thailand, including the longest reclining Buddha. It was also the earliest center for public education in Thailand and today Wat Pho is the center for teaching and preserving traditional Thai massage.
Here the feeling is very soft and not nearly as crowded as where the Emerald Buddha was at Wat Phra Kaew. The focal point here of course is the 46 meter long by 15 meter high reclining Buddha. The statue is done all in gold leaf, except the eyes and the feet (which are inlaid in Mother-of-pearl, 108 auspicious scenes on the soles of the Buddha's feet).
About the grounds are numerous buildings housing another 394 large gilded Buddha's. There's a very comfortable, expansive feeling here and I sit for a while in one of the many beautiful courtyards, in a shaded area by some little statues. After a while I catch sight of a few of the many younger (boys) monks talking and playing between classes. I have learned that it is expected that every Thai male child will spend some time as a monk, before he takes up any career. At any one time there can be nearly 500,000 monks in Thailand. This may be a better idea than what is often done in the west: sending the young boys to learn war.
Mii kwaamsuk (I am happy).

11/23/04 Myanmar (Burma), Yangon
Entering a new Jyotish (Vedic Astrology) sub-dasha period today (Venus, Venus, Sun), I can easily tell it is no random chance that I've been drawn here to Myanmar (Burma). The first thing you notice when stepping out of the airplane onto Myanmar soil is that the air is soft and sweet, as is virtually everyone who I have met, including the happy smiling immigration staff inside the airport.
Invited to stay with the family of some new friends who live here in Yangon (Rangoon), I'm hardly here a few minutes and already I feel completely at home. Tonight they are having a birthday party for one of my hosts, the wonderful, sparkling, divine Lay Wah (meaning large white gem).
Cooking all day, they have prepared a feast for the numerous family members and friends who are here to celebrate and enjoy Lay Wah's important 21st birthday.  There are talks and blessings honoring Lay Wah and, of course, the feast, followed by chocolate cake. More and more people arrive all night and I have barely learned one name when someone new appears.
It was already clear to me before arriving in Burma that this was an exceptional young woman, with great sweetness, depth and clarity of awareness. Everyone who meets her instantly falls in love with her and is sad to see her go. But her mastery of nature was made all too evident when she was able, with a smile, to coax me into singing for family and friends (yes, my friends, first time before a live audience).
This is a whole new kind of place and a whole new time I've ventured into and I think I'm really going to enjoy discovering its secrets.  Armed with a lakh of Kyat (100,000) of the local currency I must search out a way to access the internet and share a taste of what I have discovered here.

11/26/04 Myanmar (Burma), Shwedagon Pagoda, Yangon
At dawn I'm awakened to what sounds like men singing or chanting on the street below, 'Pay Byo'-'Te Ya Nga Se', 'Ei Kyaw Kway Pu Dae'…. To my surprise, when I look from the window I see several venders rolling their carts, they are singing, 'sauted soyabeans and onion, 150 Kyats, soft fried sweet bread…'
Now it's up and off for serious bargaining in the big central market with Gary, who is helping me to negotiate the best exchange rate for local currency. My pockets bulge with a lakh of Kyat (pronounced Chat), about 100,000 of the local Kyat currency (about US$100).
But no time to look around the market just yet, today I'm going to the Shwedagon Pagoda temple complex. Shwedagon is steeped in legend; some say the stupa here has been the main center of Buddhism in SE Asia for 2500 years. Since its full moon today it's very auspicious to visit and it's packed with people making pilgrimage.
To get to the main east entrance we first have to walk through a sea of street venders and thousands of pilgrims. Free of this obstacle course, shoes are removed and we walk bare foot up hundreds of steps to the central temple area.
People in every corner are lighting candles, incense and offering flowers. It's especially important to go to the correct place for your personal offering. There are signs (in Burmese) indicating the seven days of the week, so if you were born on a Sunday, you make offerings at the Sunday place.
Groups of monks are also everywhere (many curious to see me, the rare westerner). In fact, it feels like I may be more interesting to them than this fascinating and beautiful place.
Over 300 feet high and said to be gilded with over 53 tones of gold leaf, the top of the main stupa is also set with 5000 diamonds and 2000 other precious stones. ¨This adds some perspective when bargaining the taxi driver down 20 cents for the ride home.

12/03/04 Myanmar (Burma), Kyaikh Tyo
Being 'hand made' often invokes thoughts of special little differences that make something unique. Usually this is a good thing, not so with most of the hand made roads in Myanmar. Roads here are built mostly by hand, breaking and hauling baskets of rock, cooking hot tar in small wood heated drums along the side of the road, poured one bucket at a time.  This morning we're in the best worn out old Nissan taxi we could hire. Rather than rolling down the road, it's more like being beaten and dragged, reluctantly, across an irregular, bumpy, rock-protruding surface.
It's a four hours drive, with no air conditioning, to the place where we catch the bus up the mountain to Kyaikh Tyo (pronounced, Chai Tyo). Fortunately, the company is good (my friends Garry and Lay Wah) with plenty to see along the way.  Just a little way outside Yangon the rice paddies begin to dot the landscape with the occasional small village of thatched houses. And of course, pagodas and other interesting spiritual icons spring up out of every little village and field. Further along, the fields disappear and are replaced with forests of teak and rubber trees, until finally we begin to see low rolling mountains on the horizon. Stopping at a small street market in one little village for lunch we are quickly surrounded by children, baskets on their heads. They all want us to buy some of their dried black peppers, fruits or veggies.
When finally we reach the small town where we'll catch our bus I see that it's not a bus at all, but a large open heavy truck, already being packed with people. Since it's really hot and the open truck is so over crowded we are "invited" to ride up front with the driver. The invitation costs us only few thousand extra Kyat and we're in and on our way up the mountain.  It's a 45 minute ride of twists, hairpin turns and very steep grades (no guard rails) to the next station where everyone disembarks.
From here it's still another 45 minutes to an hour climb up the mountain. The twists and turns continue, as do the very steep grades, but now on foot in the heat.  A small group of porters follow us and constantly ask if we want them to carry us on their bamboo palanquins.  No, we tell them confidently, we can make it.  But after each additional series of steep hills Lay Wah asks us to wait so she can catch her breath.  Myself, I'm also happy for the break and a chance to wipe away the sweat that's now pouring in streams down my face, neck and back. Occasionally a porter will pass us carrying one or even two children in a bamboo basket strapped to his head and shoulders. Or we'll see someone being carried down the mountain on one of the bamboo palanquins, looking ever so pleased to let someone else do the work.
Numerous stops later we congratulate ourselves on reaching the top, totally exhausted and just able to find our little hotel perched on the side of the mountain. From here its just steps away to the entrance of the Kyaikh Tyo compound and the massive golden rock that balances precariously on the edge of the mountain.  Even here, on top of the mountain, there are thousands of pilgrims and monks who have come from all over. A small group of monks from Vietnam ask me about where I'm from and are surprised and pleased to hear that I teach meditation and am from a community that has so many people meditating. One can feel a deep sense of quiet here and after walking around a bit we decide to meditate near the edge where the rock is situated. The experience, we all agree, was most profound, like a blessing, and more than worth the arduous trip up here.
The following morning after breakfast we hike back down the mountain, thankfully much easier than coming up. But at the place where we catch the truck back to the village we find that as soon as a truck arrives it is immediately swarmed with people going back and even the front seats are sold out. Fortunately, Lay Wah finds one truck operator that says they'll try to squeeze us in the back.Climbing up tall makeshift wooden steps we are greeted by what appears to be an already crammed full seating area.  But soon tiny spaces are cleared and we wedge ourselves as tightly as possible between the other passengers, who greet us with typical warm smiles.
Sitting pressed hip to hip on heavy rough wooden planks, only 2″ X  4″ wide, our knees pressed firmly against the back and sides of the person in front (and someone against you from behind) there is nothing to hold onto, except each other.  As the truck pulls away slowly from the dock it seems just another 45 minute ride in the back of a big truck filled to capacity with total strangers. But only a moment later the driver, obviously his first time driving, slams on the brakes and everyone lunges hard forward against each other in a heap.  The little board I'm sitting on does not allow any balance for my much larger frame and I am thrust under the woman in front of me with my hands coming to rest firmly on her backside. As everyone collects themselves the woman in front turns around, gives me a look that says 'you do that again and my husband beside me will have at you.  Then, suddenly, the truck lurches forward, everyone falls backwards and the woman in front is now in my lap with her hands on my legs. Her husband looking on, very surprised. But before anyone has a moment to collect themselves the truck is again lurching and stopping in fits. The driver now able to continue his drivers lesson, we careen wildly down the mountain.
Out of a sense of self-preservation I'm able, with one hand, to reach under and grab the 2×4 plank under the woman in front of me. Obviously not an appropriate thing to do under normal circumstances but at this point its every man for himself  (the woman glancing back and forth between her husband and myself). After a while the situation becomes so totally ridiculous that we are all laughing uncontrollably, literally in each others arms, and alternately on their backs. For the next 45 minutes we are continuously tossed about like so much loose baggage as we wind our way down the mountain in ever-increasing fits and starts.
All I can tell you is that to have reached the bottom alive and in one piece we must have received a really good blessing at the top.
---
While hiking down the mountain I heard chanting coming from the jungle. After some exploring, I discovered a small temple hidden in the jungle, from here was playing the following Poly chant:
Poly Chant   icon-headphones 
---
English version of Poly Chant     
---
12/08/04 Myanmar (Burma), Shan District, Inle Lake
The bus station on the outskirts of Yangon is like a village, streets with bus stalls run in all directions. Mostly old, road weary buses, loaded to the max with passengers and almost anything else (from truck tires to fruits and vegetables). It'll be a long trip north to Inle Lake in the Shan district. The first 10 hours are over Myanmar's distinctive ˜hand made" roads, then just before dark, the road disappears altogether and is replaced by a narrow (one lane) dirt logging track. We creep along at a blazing 5 miles an hour as we constantly make room for logging trucks and other buses coming from the other direction. This ˜road' twists and turns through the mountains for hours and hours and hours. From the new dirt and large boulders pushed about in many places it seems that the track was just cleared from avalanches. The darkness hides the depth of the drop off at the edge of the track. There will be little sleep on this night, 20 hours later the bus pulls onto a paved road once again and we arrive at Inle Lake, it's 6 am.
Staying at the very friendly 4 Sisters Inn we get some rest, pancakes and arrange for a motorized long boat for the day. Inle Lake is a large shallow lake in the mountains; the water is maybe 10 feet deep. Here the fishermen stand on the back of their little boats using one foot on a paddle and throwing out fishing nets or baskets. There are also large areas of floating gardens (tomatoes, beans, flowers and almost anything else). Little Venice like primitive thatched villages dots the lakeshore. Here we visit little markets and silk weaving areas (also rare lotus 'silk' thread weaving).
Our boatman takes us to the other side of the lake and well up a small river, past more little villages and farms. Finally we reach the Ba Daun village, the one I am told which has the nearly extinct ˜long neck women". For generations these women have maintained their tradition of wearing many rings around their neck, adding more and more rings over time. Most of the women are very friendly and seem as interested in us as we are in them, asking if they can have copies of the photos taken with them. Only the young ones seem shy.
It's a soft quiet place, a simple place from another time. We stay only a short while before heading back across the now glass smooth lake.

12/12/04 Myanmar (Burma), Mandalay, Sagaing
The road to Mandalay is long and as usual bumpy and in the end we arrive just a little too late to see the Ayeyarwady River winding through the valley. The city of Mandalay is much quieter and cleaner than Yangon and a perfect place for a day's rest. It's here that I learn how to play Burmese pool. In this game you play on an oversized pool table, 2 men and one beautiful Burmese girl play the game together. The girl plays between the shots of the men, taking first one shot for one man, then one shot for the other. People gather around trying to see who the girl will make points for, who's shot she will miss. You never know which way the game will go.
The next morning we head out on a day trip to Sagaing, a small mountain area that is known as the meditation center of all Myanmar. Our driver lets us off at the top of the mountain and we walk down, passing along the way so many monks, as well as some sweet, angelic nuns, young and old. So many different people seem to be drawn here over the years to spend time in meditation. Perhaps another day, another time it might be interesting to return to do long meditation on the mountain, but not today. Instead we head back toward Mandalay, stopping to see traditional stone carving and finally a walk across the kilometer long wooden footbridge, where hundreds on monks enjoy the sunset. A perfect end to a sweet, quiet day of exploration.

12/13/04 Myanmar (Burma), Pindaya Cave
Hiring a car and driver we set out from Inle Lake and travel through the mountains on the road toward Mandalay. But not long out I see a woman along the side of the road drying fresh red (very hot) chilies. Knowing Lay Wah's love for these dangerous little morsels I ask the driver to stop so we can have a look. The woman who does not speak any English tells Lay Wah she has been drying this batch of chilies for the last 10 days and that we were just in time, as she was about to remove them to carry to market. It's not long before Lay Way has happily struck a bargain and the woman is stuffing large handfuls of the little red devils into a very large bag. Once she gets them home she will roast them in oil and chop them into fine fiery bits.
From here we take a little 20 kilometer detour to see Pindaya cave. As we approach the mountain a sea of little white pagodas greets us from the valley below. Pindaya is a natural cave going back into the mountain hundreds of feet. Over time people have placed more than 8,000 Buddha statues in the cave and this is now a place of reverence and pilgrimage. Walking through the cave it's like walking through a silent maze of golden Buddha's of all shapes and sizes going back deep into the heart of the mountain. The cave has a natural silence and the many rock fingers seem to reach down from heaven, it almost like Buddha could be reaching down to touch the heart of this place.

12/15/04 Myanmar (Burma), Bagan
The 9 hour boat ride from Mandalay to Bagan offered ample time to learn and play a fascinating Chinese card game. All I can tell you is that 2s are highest and you lead with the 3 of clubs. Though I have now played the game hundreds of times, I am still amazed that someone who seems to be loosing can suddenly win at the last moment. If you ever have a long trip with friends it's a fun and challenging game to play.
Arriving in Bagan one of the first things you notice is that there are very few cars and most people move about by bicycle or horse cart. After settling in we arrange for a horse cart to pick us up before dawn. Long ago this once great city was rocked by a earthquake, now all that remains are thousands of pagodas spread out across the plane.
Before sunrise we head out in our horse cart, passing in the half-light what seems like hundreds of massive structures. The only sound is the clip-clop of the horse along the road.¨After some time we arrive at a large pagoda and are escorted inside and up narrow passageways to old steep stone steps. We walk out onto a small ledge and finally look out onto a sea of pagodas rising from the morning mist, just in time for the rising sun. It's an awe-inspiring sight and one can only imagine at the former greatness of this ancient city.
After sunset we continue on by horse cart, spending the whole day exploring many different pagodas and what remains of the old city.


12/26/04 Myanmar (Burma)
Tragedy Strikes SE Asia – Earth Quake and Tsunami
This is a small note to all my friends who have been enquiring about me here in SE Asia.  As you might know from the stories here, I am still traveling around SE Asia and for the past 3 months have been living in Myanmar (Burma).  Communications from here are rather difficult at times and access to the Internet to upload the text part of my little stories can be an all day affair. Uploading photos from here is usually not possible due to the extremely slow connection speeds available to me.  Please accept my apologies for the delays this may have caused.
You all must know of the massive earthquake that shook SE Asia about a week ago. Even though the epicenter of the quake was hundreds of miles away the building here rocked and swayed for the longest time and people were running in the streets.  There was no significant damage here from the actual quake. Unfortunately, the Tsunami that followed caused some loss of life along Myanmar's southern coast.  Though Myanmar seems to have been spared the great losses of most of the other countries hit by the Tsunami, we are still saddened by this great human tragedy.
Thank you for your kind thoughts and concern for my safety here.  Wishing you all the best in this New Year!


01/19/05 Myanmar (Burma), Yangon
Living in Myanmar these past 6 weeks has been a fascinating opportunity, rich with beautiful people and ancient places steeped in spiritual tradition. During this time I have been especially fortunate to live with and get to know a wonderful Kayin family (pronounced Ka'ren).  Headed by Naw Lay, a single mother, with 4 sons and 2 daughters it is a close knit family from the very small village of Mezali, along the Ayeyarwady River delta.
Most of their early life, living in a small one room thatched house, they know everything about each other and are constantly looking to help one another. Contrast this with life in the western world where one might casually ask, 'how's it going', and then go on watching TV. Here they 'see' each other and understand. When someone comes home they stop what they are doing and greet them and talk about how they are doing, are they happy. If someone looks tired or feels uncomfortable, you might find one family member after another taking turns giving them a massage: sister, aunt, even the mother's village friends and relatives might join in.  And yes, on more than a few occasions I have found any number of relatives taking turns working on me, massaging my shoulders, my back, giving me a head massage that continues on until I tell them I'm happy. As a family their mission is to ensure that each other is happy and has a better chance to succeed in life.  Family is their basic support system and pretty much all they can depend on. ¨In the village they grew up in you won't find running water, electricity or paved roads, and certainly no Mega Mart shopping center, cell phones or gas station to fill up the new sports car.  It's just simple life at its most basic.  Working in the rice field, tending a flock of ducks, hauling water from the river, singing village songs and being with family.
Having spent so much time with them I feel almost a part of the family. As a small token of my appreciation for everything the family has done for me during my stay here, I'd like to share one small story told to me quite innocently by the family….
WISHING AND HOPING, DREAMING AND PRAYING…
Lay Wah, the younger of two sisters has four brothers. Her father had died from an illness when she was still quite young so her mother works very hard, often many jobs, just to get money for food (a few dollars a month).  Times were very hard but Lay Wah loved her family and especially her mother who worked so hard for them all. Thus at the tender age of 12, it often fell upon Lay Wah to care for and feed her younger brothers while her mother was working.
One evening, after feeding her brothers and putting them to sleep, Lay Wah found that there was nothing left to eat, not even the simple rough village rice they relied on.  She was very distraught as she paced back and forth, very worried that her dear mother would soon come home from a long day's work and there would be nothing to feed her. All Lay Wah could do was open and close the empty rough wooden rice bin and hope. Again and again she opened the box, but there was nothing inside. With her mother returning any minute, Lay Wah didn't know what to do. Instinctively she closed her eyes and, turning deep within, began to pray.  In her innocence and deep inner silence, she softly asked, 'Please God, help me, I need rice to feed my mother, please God, help me now'. Lay Wah opened her eyes and this time when she raised the lid of the rice box it was filled with rice and not the rough quality village rice, but the finest quality pure white rice.
Naw Lay, Lay Wah's mother, entered the house moments later to a surprised and beaming Lay Wah, who presented her mother with the rice. Her mother was also quite surprised to see so much expensive rice and, knowing they didn't have enough money to afford expensive rice, wondered where it could have come from. But all Lay Wah could say was that God had sent it.
From my perspective, if I don't see or find anything else on this journey, I know I've found everything I could have dreamed of finding, and so much more.

03/07/05 Thailand, Chiang Mai
Back in Thailand I'm off to Chiang Mai in the north. Today it's been a full day, trekking, across rivers and streams, over broken bamboo bridges, up the side of a mountain to visit hill tribes and then down the other side where there was a chance to go on a little elephant safari. Most people there seemed to be in couples and they were seated together on big metal chairs on the back of the elephant. Being by myself they invited me to ride on the neck of the largest elephant. Almost felt like some kind of mahout. It was a slow trek through the forest then up a very steep and very narrow dirt track. These big animals are sure footed, and that's good, you don't want one of these big guys slipping off the mountain and tumbling down over on top of you. Fortunately, my elephant seemed to like me pretty well, every now and then he would grab my foot with his trunk and give a good tug.
Following this I hitched a ride down a river on a bamboo raft. The rafts are made of several large diameter bamboo pieces that are maybe 25 feet long and the whole raft is not more than 4 feet wide and tied together in three places by one inch wide strips of old tire. Usually there are two passengers sitting in the middle of the raft with a boatman at the front and rear. There was a young couple from Ireland occupying the middle seat so this left me standing as the rear boatman manning a bamboo poll (used to steer around rocks). It was not the rainy season, so the river was pretty easy, with the occasional little rapids (not more than class 3).
Quiet rice paddies and farming scenes drifted by, as well as small groups of elephants grazing along the river's edge. It was a nice easy float. Then at one point there was a sign advising passengers to disembark, for their own safety. The boatman on the front indicated we should get out, but we waved our hands indicating to push on. The boatman looked at me and laughed as I pushed off a rock with my bamboo poll. Off we went around a bend and the river suddenly narrowed to a small rushing gap between large rocks, just barely the width of the raft. The couple from Ireland grabbed their bamboo seat really tight and I crouched low and shoved my bamboo poll this way and that as we surged into the gap. Somehow we managed to scrape through without getting crushed, or even too wet. The boatman looked behind us to see that all the other boats had stopped and their passengers were scrambling off to walk around the rapids. Just another day of exploration, one never knows what's around the bend….

3/15/05 Cambodia, Angkor Wat
For many years I have been hearing about the wondrous temples in the Cambodian jungle. Now after all this time I am here and very much looking forward to seeing for myself. To start, these temples are for the most part very, very large. To give you an idea of their size each temple is about the area of a small town. Now put them one beside the other stretched out across the jungle… The temples of the ancient spiritual center of Angkor thought to be commissioned by god-kings, beginning around the 9th century.
My great fortune this week is to be able to explore some of the most impressive of these temples. My top two favorites are without a doubt the mysterious Bayon Temple (which is in the exact center of the city of Angkor Thom) with its 216 giant four-faced heads looking down on you and the Ta Prohm Temple, in many places over grown by massive tree trunks and roots. Remember Angelina Jolie in the movie Tomb Raider, then you'll immediately recognize these two temples from the film. What you might not get from viewing the film is that long ago these were active living sacred places, with priests, devotees, pilgrims, workers and even kings. It is said that one temple alone required 10's of thousands of workers just to maintain the temple buildings and grounds. Untold numbers of feet have walked these narrow passageways and climbed the unbelievably steep stone stairs. Ok, Angkor Wat Temple is also a little impressive, but mostly for its great size and prominent position as you enter the area.
Massive intricately carved walls reach out from all directions and into the distance. These walls are frequently covered with scenes from the Ramayana, the churning of the Ocean of Milk, and others of gods and demons in the eternal struggle for balance in life. Of course the requisite Apsaras, beautiful celestial nymphs, can be found dancing around the base of many of the temples. Another favorite is the 350 meter long Terrace of elephants, a huge field bounded on one side by a high wall covered entirely in carvings of elephants.
In other places there are entire fields covered with thousands of large "forgotten" carved stones, with no idea of where they originally fit in, they sit and mark time. These days it seems that Cambodia, and most of the world, may have forgotten what was the essence and heart of such places as this. But long ago the spiritual heart of this place was lost, or driven out. Now all that remains are the very impressive spiritual bones of a once glorious past. It's been a long and fascinating day and now it's time for me to meditate…to reconnect with the source of nature.

04/02/05 Lao, Luang Prabang
Dropping down into dense grey clouds the air in the cabin takes on the surprising aroma of campfire smoke. Everything is still quite grey outside but I can begin to make out mountains all around, and there, almost hidden between, a runway. Stepping out onto Lao soil there is a soft rain, not water but of ash. More on this later
This week I'm in northern Laos, in Luang Prabang a small town situated at the confluence of the Mekong and Nam Khan rivers. Luang Prabang is an interesting fusion of traditional Buddhist and old French styles. Perhaps the best contributions of the French have been the many bakeries, the French colonial architecture and perhaps a special something, a sweetness, in some of the younger faces.
By afternoon an open market takes over the main road through town, an intoxicating couple hundred yards. Walking here one sees a never-ending array of fresh fruits, cooked foods, baked breads and wonderful cakes (coconut, my favorite). The local crafts and arts are everywhere and you'd need several large suitcases to hold just a small sampling. But for me it's an especially good place to watch the local people. My normal smile is returned by a beautiful flowing sweetness that does not seem to end.
During the day I take the slow boat up the Mekong River to visit even smaller villages. Along the way up river I pass fishing villages and limestone caves with thousands of small Buddha statues inside. In many places you see bamboo racks one after another, holding rice cakes drying in the sun. Or frames holding beautiful hand made paper with flowers and bamboo leaves. Still, if you've come all this way why not catch a glimpse of the primitive local alcohol stills. Though I didn't give it a try, I'm told they brew very potent rice liquor, Lao whisky.
But if you want something really thrilling then you hire one of the small speedboats for a trip up river. These little racers have car engines, no mufflers, and they nearly fly up the river. The regular boat trip to Chiang Mai takes days but in the speedboat, only a few hours. Due to frequent accidents passengers are advised to wear protective gear (motorcycle helmets and life jackets). Oh, and before you strap yourself in, check to see that your driver hasn't been dipping into the Lao whisky!
Many of the temples here in Luang Prabang are covered with intricate inlaid work, both inside and out. The Tree of Life on the side of one tiny temple building was magnificent. Wondering the courtyard, I come across young monks using a bamboo pole to pick green mangos from a tall tree. One of the monks jokes with me and asks if I know about green mangos (most foreigners don't) and when I say yes, he happily picks one for me. Lay Wah taught me how to eat them green while I was in Burma, tart and great in salads, tasting a little like green apples.
Some hours later, using country dirt roads, I'm far into hill country exploring remote villages. Most of the adults are off in the fields in the afternoons getting ready for the next planting, before the rainy season. This means clearing trees and burning anything that remains. There are thousands of small fires. This explains the constant thick smoky haze and constant falling ash everywhere. I'm told if I come back after the rainy season it seems like another world. Until then, you'll forgive me if there are no photos of beautiful lush green sweeping mountain panoramas. Because of the haze, even I had to use my imagination.
For now maybe I'll just take a swim in one of the pools below a waterfall. Just another day wondering along the pathless path…
Late follow-up: Because of extra thick smoke from all the clearing and burning of fields, nearly all flights into and out of the Luang Prabang have been canceled, for the second day. Lao Airlines is operating some limited flights (their pilots are allowed landings with very limited visibility clearance). I hear it should be any minute now, for the last 7 hours. Next time I'll try the slow boat down the Mekong.
08/04/05 Thailand, Chinarai, Elephant Coronation
A very fast driver and Thailand's great highways has made it a quick 5 hour car ride north from Bangkok to Sukhothai (meaning, rising happiness). But we bypass the old city ruins in Sukhothai, once capital of the ancient arm of Kymer civilization. Instead, we drive another 60 kilometers to the small town of Chinarai, an otherwise unremarkable little town, except today. Today there is the once a year special elephant coronation festival, held here for the past several hundred years. Today is the day when the young boys of the village, who are becoming monks, will have their heads shaved, get anointed and dressed in colorful robes and crowns, and then ride to the temple on elephants.

This is their last day for some time to be out in the world and this town really makes a big deal of it. Really big, many marching bands on each of the four sides of the courtyard, dancing Apsaras (beautiful nymphs) and the entire population dressed in traditional clothes, singing and dancing together as the boys come into the temple courtyard on their elephants. The party goes on for a hours outside as the boys are ushered into the little temple and the head monk chants the rites, initiating them into the order.
Being one of only a handful of foreigners present, I was invited to go where I wanted, to see everything. Starting with visiting a private home where one boy was being prepared, to seeing the elephants being painted and prepped, to being invited inside the temple by the head monk to witness the occasion.
This was one of the more unusual and colorful celebrations I've attended, and everyone there was obviously in high spirits. The boys, for their part, did look appropriately serious throughout the day, though most of the time it was difficult to tell, behind their dark sunglasses. Perhaps this celebration is to challenge them, so they know what they'll be giving up as monks. After this day they must give up the multi colored robes (they'll get only orange), the dancing girls and the world of change. From here it's the quiet simple life of the monk and focus on the spirit within. From their new inner view, it could also seem refreshingly peaceful, a chance to unfold something beyond the reach of change. But once every year, as a reminder of what's going on outside, they'll get a glimpse, as the next group of new monks enters the monastery walls, riding on the back of elephants…
---